As a premier web host in Singapore, we have invested in industry-grade hardware and equipment so that your websites perform and respond quickly and smoothly.
SkyBiz's Network Advantages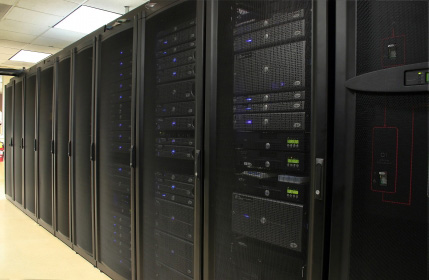 Multiple and geographically redundant dedicated connections to Tier-1 Internet backbones from the largest ISPs in South East Asia and USA.
Peering relationships are monitored and maintained 24x7x365 and upgraded as needed.
All Data Centers deploy Border Gateway Protocol (BGP4 Routing Protocol) that enables a multi-homed provider to setup a truly redundant network. By connecting to multiple backbones, SkyBiz distributes data out quickly in the shortest possible path. In the even of a failure in one circuit, our network automatically re-routes data to another backbone, ensuring uptime and redundancy for our customers.
Data Centre

Singapore Telin Data Centre
Telekomunikasi Indonesia International Pte Ltd
30 changi North Way
498814 Singapore
Malaysia Aims Data Centre
(Sharing the network with Extreme Broadband (EBB) & Tata Communications)
Menara Aims,
Changkat Raja Chulan,
50200 Kuala Lumpur, Malaysia.

Malaysia Cyberjaya Data Centre
(CS 2. Tier 3)


Shared Server Specifications

Dell PowerEdge Servers
2 x Quad Core Intel Xeon (64 bit CPUs)
8GB ECC Registered RAM
15,000rpm SAS Harddrives


Remote Hardware Systems

Equipped with remote hardware reboot ports
Equipped with remote Keyboard, Video, Mouse (KVM) over IP
SkyBiz Network Connectivity to the World
We are on multiple connections to premier Internet backbone providers globally, and we are on the high-speed SingaporeONE backbone via multiple ATM connections locally.

Starhub
SingTel
NTT
SAVVIS
Cogent
PCCW
Global Crossing
Metromedia
Qwest
Tata GlobeInternet

Alternet
Level3
Sprint
Tiscali
ReTN.net
Asia NetCom
AT&T
Telia
Hurricane Electric
Data Center Facilities

Infrastructure

Specifically constructed Data Center offers a state-of-the-art environment with raised floors, climate control, fire-suppression system, Uninterruptible Power Supply (UPS) systems and standby power generators

Network Operation Centre

The Network Operation Centre runs 24 x 7 x forever with 3 shifts per day, giving 1st level support, network, server and facilities monitoring. HP Open-view system and CiscoWork 2000 is used for network and system monitoring. Site-scan system is used for facility monitoring. One of the most significant benefits of selecting SkyBiz is the level of security that is offered from a facility, server and network perspective. SkyBiz's commitment to security has been a leading factor in winning and sustaining business - especially those businesses focused on E-Commerce


Power

Full redundancy is on hand in our Data Centers. Our generators can restore any fault in power supply. These generators can fully operate within 20 seconds after the power failure and has a redundant diesel generators with 72-hours fuel supply. 2 units of 1250kVA, each fed off dual power sources from a single grid. The data centre is equipped with an 8 x 200kVA capacity of uninterrupted power supply, with 20 minutes full load battery backup system. Liebert power supply and distribution unit is each of 100kVA capacity.


Air Conditioning

Downflow Liebert Systems environmental units are used with built-in zone redundancy. The data centre uses 12 PCU-Precision Cooling Unit, with 50% humidity control and 20 degrees centigrade for server health. Chilled Water Systems are used as the backup, working with industrial dehumidifiers to control the humidity of the server room. Emergency power generators guarantee full uptime back up for all air-conditioning. Raised floor design creates airflow which assures the most efficient cooling possible.

Network Architecture

OC-48 (2 Gbps), OC-24 (1 Gbps) and Multiple OC-3 (155mbps) lines to major carrier around the world. The data centre utilize the latest CISCO switches and routers to ensure the best connection speed at all times.

Physical Security

Areas where servers are located provide an extra-secure environment for housing the equipment featuring top-of-the-line security systems that incorporate biometric identification systems, closed-circuit cameras (CCTV), security patrols, social engineering practices and restricted floor access. Cages are used to provide additional security. The data centre is staffed with security guards and SkyBiz engineers 24/7, and requires card key access to get inside. No one except for our technical staff has access to your server.

Fire Suppression

Our facilities use dry fire suppression systems, which are integrated with features such as fire department notifications and controlled shutdown. These systems are constantly monitored and tested on a regular basis. The FM200 is used as our main zone-based fire protection for equipment, which will be triggered by smoke sensors and fire detection system. Fire extinguishers are used to fight small fires. The dry pipe water sprinkler system is used as a backup fire protection system, which can be triggered manually.